Don't leave your summer comfort to chance and get your AC repaired before it's too late! If you're looking for a professional HVAC company to repair your AC unit, look no further than North Wind. We offer Air Conditioner Repair in Barrie, Innisfil, Bradford, Georgina, New Tecumseth, Orillia, Midland, Collingwood, Wasaga Beach, Blue Mountains, and the surrounding areas.
AC Repair Services
Our AC repair service is straightforward and finite. We take the guesswork out of repairing your air conditioning by following these steps:
We proudly offer all AC services under one roof. So in the event, your AC is damaged beyond repair, you can always have it replaced and install a new one by hiring us.
Trained team of HVAC specialists
Transparent, competitive fees
Warranty and maintenance support
Available 365 days per year, 24/7
We come to your location at your convenience
Serving Barrie, Innisfil, and the GTA
Common AC Problems
Your central or ductless air conditioning system relies on many components to function properly. If one of the components is compromised, the entire operation of the AC unit suffers and could cause further damage to other components.
As experienced HVAC professionals, we ensure a thorough test of the system and provide reliable repair services. If the repair requires parts – no problem!
We carry most parts required in our truck with the aim to return your home to a comfortable temperature as soon as possible.
Repairs can be costly, so it's important to make sure your air conditioner is in tip-top shape through regular upkeep.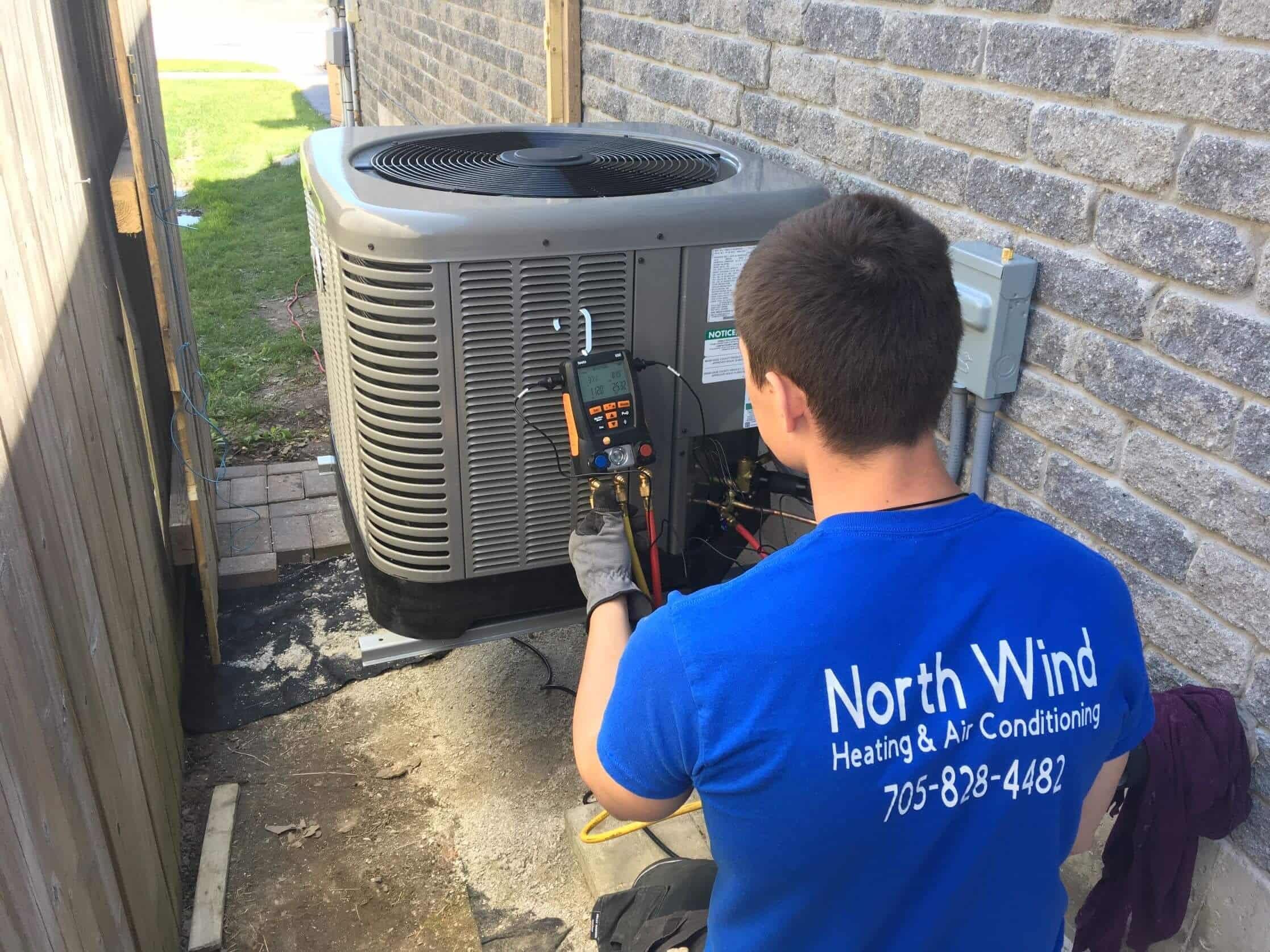 And it's always a good idea to be aware of some of the more common problems that can arise with your air conditioner:
Not addressing your problems promptly can lead to bigger issues that might not be solvable in the future. Therefore, it's best to have your AC unit checked out as soon as it starts making strange noises or not cooling properly.
Our team is trained and equipped with the knowledge necessary to get down to the root of your AC problems. Trust us to get your AC up and running before the dog days of summer are here.
Why Choose Us
Every one of our service professionals is licensed to conduct furnace installation and repair services in Ontario. North Wind HVAC provides service quality assessed by TSSA (Technical Standards & Safety Authority).
We refuse to make our customers wait for heat, given the climate of our shared country. We are able to carry out our service entirely on the same day you call us, with 15 minutes of response time when you reach out to us online or by phone.
Not only do we offer competitive labor fees that will leave you feeling comfortable, but we also go to great lengths to ensure that the price you are quoted when we arrive is the true price you pay on completion of our job. No hidden fees.
At North Wind HVAC we pride ourselves on transparent and honest business practices. And because we believe in the impeccable quality of all the work we do, we offer a guaranteed 3-month service warranty on every job we carry out.
Frequently Asked Questions
– WHAT IS THE DOWNSIDE OF A TANKLESS WATER HEATER?
The main disadvantage of a tankless water heater is the initial cost of the unit and the installation, But tankless water heaters produce endless hot water, are safer, longer lifespan, and take less space because you don't need water tank.
– ARE TANKLESS WATER HEATERS WORTH IT?
Tankless Water heaters initial cost may be high but month-to-month water heaters costs are cheaper.
overtime you will likely cover the initial cost.
– WHAT IS THE LIFESPAN OF A TANKLESS WATER HEATER?
Tankless Water Heater has a life expectancy of more than 20 years, most units can be easily fixed and extend their life by many more years.
The Right Technicians for All Your HVAC Needs
We cannot wait to help homeowners across Ontario. If you're having problems with your AC unit and need a skilled eye to examine it, give us a call!
We Repair ALL Central and Ductless AC Brands Including: