There is perhaps no more crucial HVAC part in a home than a working furnace. Each winter, the great white north earns its reputation—and homeowners face a test of their furnace system. Unfortunately, all that wear and tear takes its toll: it's not uncommon to realize your furnace is not working…and just when you need it, too.
North Wind HVAC is your trusted source for gas Furnace Repair in Barrie, Innisfil, Bradford, Georgina, New Tecumseth, Orillia, Midland, Collingwood, Wasaga Beach, Blue Mountains, and the surrounding areas.
We consistently provide quick and effective furnace service that our customers have come to rely on, year after year. From our initial furnace inspection through to our affordable and reliable furnace repair service, we always leave our clients in a state of utmost comfort—regardless of their initial trouble.
When You Should Repair Your Furnace
We've been conducting emergency furnace repair in Toronto long enough to have seen it all. Here are some of the most frequently-arising gas furnace issues we look for:
1. The Furnace Won't Start
There isn't a lot that's more disappointing in the experience of homeownership than a furnace not turning on. Unfortunately, it can be a somewhat complex problem to diagnose, as there are many factors at play.
The simplest culprit for a gas furnace not working would be your thermostat, which may have reset itself or simply be in the wrong setting, and therefore fail to notify your furnace to turn on. Other issues could include trouble with pilot lights, circuit breakers, or even a lack of fuel.
2. The Furnace Is Not Producing Enough Heat
There are two big possibilities when it comes to a furnace that isn't providing the correct amount of heat: issues with the gas burners, or a clogged airflow.
Airflow can be negatively impacted either by the filters for your furnace themselves (which require regular replacement) or when vents and ducts are blocked.
Malfunctioning burners, meanwhile, are a more complicated issue to diagnose and will require a professional to open up the system and determine what is going wrong.
3. Loud and Annoying When Running
It's not uncommon for a furnace to run loudly—but when you notice a change in the sounds your furnace is making, particularly if it's becoming much louder, it can signal trouble.
High-pitched noises can be a sign that the blower belt is slipping or that parts need oil. Low-pitched sounds can be a sign of burner trouble.
How to Choose the Right Furnace
Before replacing your old furnace, consider the following factors:
Top 5 Furnace Malfunctions
There are many factors that affect the performance of a gas furnace. Below is a list of the top 5 issues that we encounter on a daily basis:
Sometimes, it is a combination of multiple issues that leads to a furnace not performing or turning on. As experienced and reliable HVAC contractors, we can tackle any furnace problem and get you warm and cozy as quickly as possible.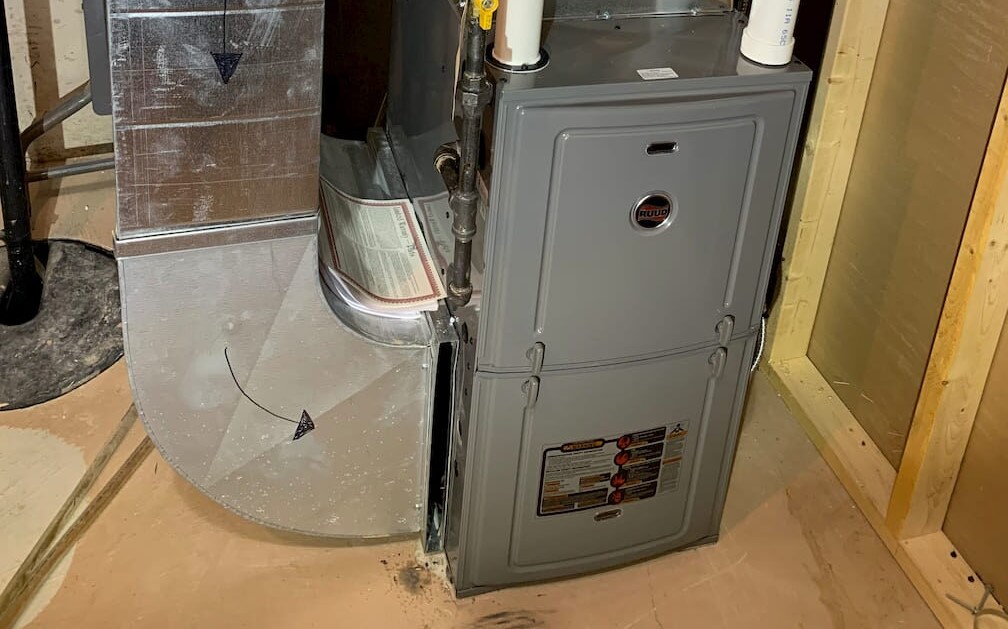 Why Choose Us
Every one of our service professionals is licensed to conduct furnace installation and repair services in Ontario. North Wind HVAC provides service quality assessed by TSSA (Technical Standards & Safety Authority).
We refuse to make our customers wait for heat, given the climate of our shared country. We are able to carry out our service entirely on the same day you call us, with 15 minutes of response time when you reach out to us online or by phone.
Not only do we offer competitive labor fees that will leave you feeling comfortable, but we also go to great lengths to ensure that the price you are quoted when we arrive is the true price you pay on completion of our job. No hidden fees.
At North Wind HVAC we pride ourselves on transparent and honest business practices. And because we believe in the impeccable quality of all the work we do, we offer a guaranteed 3-month service warranty on every job we carry out.
Frequently Asked Questions
– WHAT IS THE DOWNSIDE OF A TANKLESS WATER HEATER?
The main disadvantage of a tankless water heater is the initial cost of the unit and the installation, But tankless water heaters produce endless hot water, are safer, longer lifespan, and take less space because you don't need water tank.
– ARE TANKLESS WATER HEATERS WORTH IT?
Tankless Water heaters initial cost may be high but month-to-month water heaters costs are cheaper.
overtime you will likely cover the initial cost.
– WHAT IS THE LIFESPAN OF A TANKLESS WATER HEATER?
Tankless Water Heater has a life expectancy of more than 20 years, most units can be easily fixed and extend their life by many more years.
Contact Our Furnace Repair Technicians
The next time you run into a furnace problem, reach out to North Wind HVAC. We promise to be at your doorstep to address the issue and help you with any and every furnace need. And if you need emergency gas furnace repair in Toronto, Barrie, the GTA, we're more than glad to assist you.
We Repair All Furnace Brands Including But Not Limited To: