The Best AC Repair Technicians Around
Affordable

AC Repair Services in Aurora
With an established reputation spanning over three decades, North Wind HVAC is committed to providing unparalleled AC Repair services in Aurora and its surrounding areas. Our team takes immense pride in delivering exceptional AC Repairs, understanding the importance of dependable and reliable service that prioritizes your convenience. When you choose North Wind HVAC, you can trust that your AC unit will be handled by skilled and experienced professionals.
Complimentary Estimates
Same-Day Service
Round-the-Clock Emergency Support
We Service a Wide Range of AC Brands
Contact our Aurora team today to schedule your AC repair and embark on a refreshing year ahead with optimal cooling comfort!
Experiencing any of these issues?
We're Just a Phone Call Away!
Inadequate Cooling from AC Unit
If your AC unit is failing to deliver sufficient cooling, several factors could be at play, including a dirty air filter, a malfunctioning thermostat, or a refrigerant leak. Restoring optimal performance may involve tasks such as cleaning or replacing the air filter, recalibrating or replacing the thermostat, or identifying and fixing any refrigerant leaks.
Challenges with Airflow
When faced with poor airflow from your AC unit, potential causes could include clogged air filters, blocked vents, or repairing or replacing the blower motor. Dealing with this issue may require cleaning or replacing the air filters, clearing any obstructions, or repairing or replacing the blower motor.
Strange Noises from your AC
If unusual noises emanate from your AC unit, they may indicate problems such as a loose fan belt, a faulty motor, or debris in the condenser unit. Resolving this issue could involve tightening or replacing the fan belt, replacing or repairing the motor, or cleaning the condenser unit.
Water Leaking from your AC Unit
If you notice water leakage from your AC unit, it could signal a clogged condensate drain line, a broken condensate pan, or a refrigerant leak. To fix this problem, you may need to clean the clogged drain line, repair or replace the condensate pan, or resolve any refrigerant leaks.
Failure to Turn On your AC Unit
When your AC fails to power on, potential culprits could include a tripped circuit breaker, a faulty thermostat, or a malfunctioning compressor. Resolving this problem may involve tasks such as resetting the circuit breaker, inspecting and replacing the thermostat batteries or recalibrating the thermostat, or repairing or replacing the compressor.
AC Maintenance
Experience the Benefits

of AC Maintenance
Reveal the secrets to a cooler and more reliable AC system. Maintenance holds the key to preventing costly system meltdowns (literally).
Avoid Costly Catastrophes: Your air conditioner is a masterpiece of intricate components, each playing a vital role. Ignoring even a single malfunctioning part can disrupt the entire system, leading to expensive problems and potential system failure.
Maximize Energy Efficiency: Embrace the power of AC maintenance and witness your energy bills shrink! Regular TLC boosts your AC's efficiency, resulting in reduced energy consumption and more money saved every month. Who said comfort had to come at a high cost?
Protect Your Warranty: Don't let your warranty slip away! Many HVAC manufacturers require regular system maintenance to honor warranty coverage. By neglecting annual maintenance, you risk being responsible for expensive repairs that could have been covered.
Sustain Optimal Efficiency: As your AC system ages, its efficiency naturally declines, especially without regular maintenance. Diminished efficiency means your system works harder to maintain desired comfort levels, leaving you frustrated and accelerating wear and tear.
Take a Deep Breath: Over time, your reliable AC becomes a magnet for dirt, pet dander, and debris, polluting the air you breathe. Fear not! Routine maintenance by a professional clears away the buildup, ensuring pristine indoor air quality and safeguarding your family's health.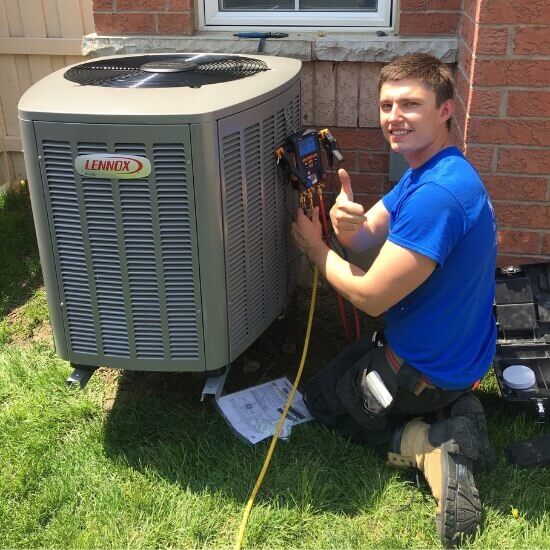 AC REPAIR
 

Frequently Asked

Questions
Every HVAC

Repair and Installation Service Under One Roof!

Get in touch with our experts to book your appointment, today.
Quick Response within 2 Hours
Servicing Toronto, Barrie & the GTA
24/7 Support, Repair & Installation