The Best AC Repair Technicians Around
Reliable

AC Repair Services in Etobicoke
The proficiency of our technicians at North Winds HVAC has earned us the reputation of being the top service provider in Etobicoke. With more than 30 years of experience in the HVAC industry, we understand how hard it can be to find reliable AC services when you need it most. Rest assured that our technicians are wholly committed to providing remarkable service and meeting your specific needs.
Complimentary quotes
Prompt installation service on the same day
Round-the-clock customer care
Extensive selection of AC brands available
Do not hesitate to contact our Etobicoke team today and schedule your AC repair appointment without delay!
Are you currently facing any of these issues?
We're Just a Phone Call Away!
Deficient AC Unit Cooling
If your AC system falls short in delivering adequate cooling, there could be a few reasons why. This could be a malfunctioning thermostat, a dirty air filter, or a refrigerant leak. To restore efficient performance, you may need to recalibrate or replace the thermostat, clean or replace the air filter, or identify and rectify any refrigerant leaks.
Airflow Issues
Insufficient airflow from your AC system could be because of a few things; blocked vents, clogged air filters, or issues with the blower motor may be responsible. Addressing this problem might involve clearing any obstructions, cleaning or replacing the air filters, or repairing or replacing the blower motor.
Abnormal Noises from Your AC Unit
If unusual noises are coming from your AC unit then this could indicate a variety of underlying issues; including a faulty motor, a loose fan belt, or debris in the condenser unit. To resolve these concerns you might have to replace or repair the motor, tighten or replace the fan belt, or clean the condenser unit.
AC Unit is Leaking Water
If water is leaking from your AC then this could be a cause for concern and may indicate a broken condensate pan, a clogged drain line, or a refrigerant leak. To fix this issue, you may need to repair or replace the condensate pan, clean the clogged drain line, or resolve any refrigerant leaks.
AC Unit Won't Turn On
Potential causes for your AC unit to fail to turn on could involve a faulty thermostat, a tripped circuit breaker, or a malfunctioning compressor. Fixing this problem may mean you have to inspect and replace the thermostat batteries or recalibrate the thermostat, reset the circuit breaker, or repair or replace the compressor.
AC Maintenance
The Power of Little

 AC Maintenance
Discover the secret to avoiding meltdowns (literally). Maintain your cool and enhance your AC's performance!
Steer Clear of Costly Disasters: Your AC unit is an intricate machine, with each component playing an important role. Neglecting even one malfunctioning part can disrupt the entire system and lead to expensive issues and potentially a system failure.
Ignite Savings: Embrace the power of AC maintenance and witness your energy bills dwindle! Regular maintenance enhances your AC's efficiency, which translates to decreased energy consumption and more money saved each month. Who said comfort had to come at a hefty price?
Make the Most of Your Warranty: Don't forget about your warranty! Many HVAC manufacturers require routine system maintenance to uphold warranty coverage. Missing your annual maintenance could leave you paying for repair costs that could have been covered.
Sustain Optimal Efficiency: Your AC unit's efficiency will naturally diminish as it gets older, especially without routine maintenance. Decreased efficiency forces your system to work harder to maintain desired comfort levels, which can result in faster depreciation.
Indulge in Pure Bliss: Over a period of time, your dependable AC unit attracts dirt, pet dander, and debris, which can contaminate the air you breathe. Routine maintenance eliminates this gunk and ensures impeccable indoor air quality, safeguarding your family's well-being.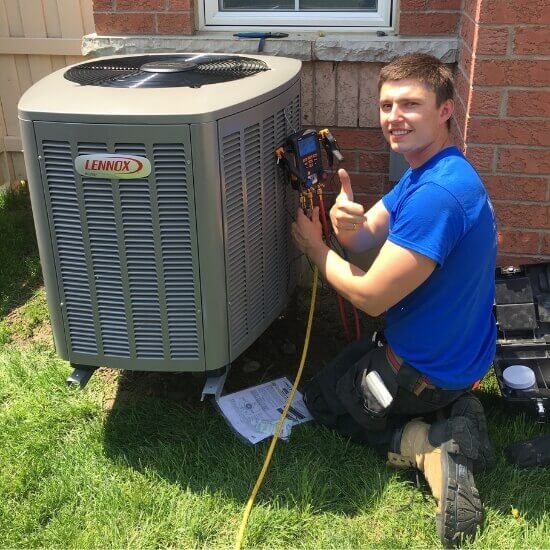 AC REPAIR
 

Frequently Asked

Questions
Every HVAC

Repair and Installation Service Under One Roof!

Get in touch with our experts to book your appointment, today.
Quick Response within 2 Hours
Servicing Toronto, Barrie & the GTA
24/7 Support, Repair & Installation