Furnace Installation Etobicoke





Furnace Installation Experts
Dependable Furnace Installations in Etobicoke
North Wind HVAC has been the trusted expert for furnace installation services in Etobicoke for over 30 years. Our commitment to customer satisfaction and delivering outstanding results sets us apart as the preferred choice in Etobicoke. We know all too well of the struggles of finding HVAC technicians that prioritize your convenience and schedule, speak to our dedicated team today and let's make this an enjoyable experience.
Free estimate
Same-day installation services
24/7 emergency assistance
Association with leading furnace brands
Contact our dedicated team in Etobicoke today and let's get started on your new furnace installation!
Wondering how to prepare for your furnace installation? Don't worry, we've got you covered!
To ensure a smooth and hassle-free furnace installation, it is crucial to follow a series of important steps.
Forward Planning
Gather all the necessary installation details, including the technician's name, scheduled date, and contact information. Put aside a dedicated time on the installation day to be fully prepared and available.
Analyze Your Existing Heating System
Assess your current heating system before the furnace installation. Our skilled technicians in Etobicoke will evaluate the condition of your ducts, vents, and overall heating setup to ensure they meet the necessary requirements for the new furnace. Consider addressing any necessary duct cleaning or repairs in advance to optimize system performance.
Maintain a Clean Workspace
Maintain an easily accessible workspace around the installation area. Our Etobicoke technicians require enough room to safely and efficiently maneuver their equipment. Remove any obstacles near the installation area to facilitate a smooth installation.
Confirm Proper Ventilation
Efficient ventilation is required for the efficient operation of your new furnace. Make sure that all vents and air intake areas are unobstructed. This guarantees enough airflow and stops future issues that may arise from restricted ventilation.
Accommodate Children and Pets
Throughout the installation process, it is important to prioritize your children and pets. Please keep them away from the installation area and inform our technicians about any hazards. By creating a safe environment, we ensure the well-being of everyone involved and guarantee an easy installation.
Convey Any Concerns or Special Instructions
If you have any specific instructions or concerns related to the installation process, communicate them clearly to our technicians beforehand. This ensures that they are well-informed about any special circumstances and enables them to address them during the installation.

Furnace Maintenance
Stay Ahead of the Game with Regular Furnace Maintenance!
Unlock the numerous benefits of regular furnace maintenance for your home and budget. By prioritizing the upkeep of your furnace, you can enhance energy efficiency, which can potentially lower monthly expenses and ensure a cozy environment all year round.

You can reduce the risk of expensive repairs by investing in routine furnace maintenance. With proactive care, you can rest knowing that your furnace is in optimal condition and ready to provide reliable heating. Contact us today to schedule your furnace maintenance appointment in Etobicoke and discover the long-lasting benefits for your home.

Maintain your furnace and experience consistent warmth and comfort, regardless of the season.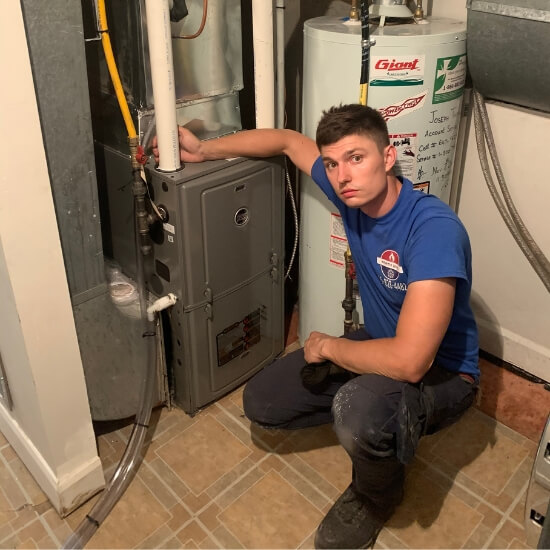 FURNACE INSTLLATION
 Frequently Asked Questions
Every HVAC Repair and Installation Service Under One Roof!
Get in touch with our experts to book your appointment, today.
Quick Response within 2 Hours
Servicing Toronto, Barrie & the GTA
24/7 Support, Repair & Installation